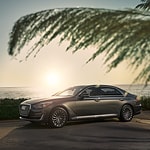 The G90 remains a top choice among vehicle owners who prefer the space and comfort that a mid-sized luxury sedan offers. Owners also benefit from the vehicle's many state-of-the-art safety features. Evaluate the luxury, comfort and safety that the sedan offers by seeing the latest models in our Genesis of Roswell inventory. Ask about taking a test drive.
The sedan prevents the possibility of collision in a number of ways that include the cruise control system. Front vehicle sensors continually monitor the G90's distance from other vehicles. When traffic begins slowing, the system automatically follows suit and slows the sedan to match traffic speed. But, when traffic resumes speed, the G90 does too.
The driver's assistance system learns the habits and patterns of drivers. When an anomaly occurs, the system alerts the driver. Fatigue detection may cause the vehicle to suggest rest. Lane departure prompts the system to alert the driver to make a correction.