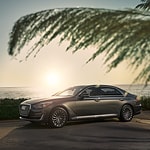 The Genesis G90 is a new luxury midsize sedan with a number of impressive safety features for you to enjoy in Roswell, GA. Everywhere you go, you want to know that there is safety to keep you and your passengers in one piece. At Genesis of Roswell, we'll show you the latest technologies to help you accomplish this.
Smart cruise control with stop and go allows you to maintain a proper following speed between you and the vehicle in front of you. Front-mounted radar sensors will detect the distance and apply the gas and the brakes as necessary. It's a more relaxing way to drive at the speed you want to go, too.
Smart blind spot detection is also inside of the G90. As you drive, vehicles of varying sizes may appear in your blind spot. Sensors will now tell you if there's a vehicle that you can't see so that you don't go into the other lane.